Shopping Cart
Your Cart is Empty
There was an error with PayPal
Click here to try again
Thank you for your business!
You should be receiving an order confirmation from Paypal shortly.
Exit Shopping Cart
Jan Meyers Proett, M.A., LPC
Mining Stories, Crafting Words, Loving Living Things

| | |
| --- | --- |
| Posted on January 4, 2013 at 12:33 AM | |
It was a little early to light candles.  I looked around the room and enjoyed the muted afternoon sunlight coming through the French doors.  I liked it.  There was a familiar comfort, this moment a few hours before a large group of dinner guests arrived to celebrate Christmas.  I was happy with the clean hardwood floors.  That could seem shallow perhaps, except that I love preparing for guests.  I smelled the subtle scent of pine, and spied the bags and candles for the luminarias near the front door, ready to be assembled.  I imagined the white lights on the Christmas tree at dusk, no longer hidden by daylight.  There was still much to do, but in this moment I stopped to envision each person around the table, discovering and enjoying each other.  A group of gold was coming to our home - funny, authentic, thoughtful, selfless folks.  All so different.  I couldn't wait to see them.
I had been preparing food for days.  I felt like Babette in Babette's Feast, without the lottery.  Visions of each course had rumbled around in my head, found their way into the freezer, and then near the oven on this day.  I enjoyed every moment.   I had been weary this year, going into the holidays, after a heavy event calendar.  But this feast was going to be the final act before a nice long intermission over Christmas.  And we had much to celebrate.
The morning had been a tough one.  The day before, school children -little ones - had been gunned down like prey.  The frayed fringes of goodness in our culture dangled chaotically.  And not unlike Legolas' statement in The Lord of the Rings, "Something stirs in the East," every good heart had an awareness of evil, pressing in, intentional.  Because of this, the thought of gathering for the party brought a balm.  I imagined all of us hesitant to raise a glass with fervor, but we surely wanted  to raise a glass in solidarity; a glass that stated that beautiful things cannot be erased, that there really is a table set before us in the presence of our enemies.
I moved toward the serving cabinet to get utensils, when I noticed I had missed a call. I placed the cutlery at the place settings, and wandered to the phone.  My sister had called. 
What is it that tells the heart all is not well, the intuition, the knowing?  It was the Spirit of Jesus.  Be prepared.  I listened to my sister's rended voice on a message, and I knew.   I called and she quickly picked up, crying as I've never heard.  "Ryan is dead." 
The words tumbled like an avalanche of heavy stone into my center, crushing it.  My nephew Ryan's face, his essence, was immediately before the eyes of my spirit, scenes from his life flickering past in rapid succession, landing on a walk we had with him by the Rio Grande in warm winter sun, just three weeks prior.  I envisioned my sister's eyes, and I crumpled to the floor.
I will not describe the words pouring from my sister's heart.   They are sacred words, words of passionate affection, longing and knowledge of her son.  They cascaded from a heart shattered like glass.  And I cannot describe the words that rose up in me to meet her words.  Our cry rose to heaven, with him.
The party, the feast, the preparation, the pleasure, vanished into a fog.  The room was swallowed up in shock.  The warming oven, the bubbling cider, stopped.  It did not dare move.  Ryan was gone, and the rest of the world went silent.
The next nine hours were a heightened blur.  Calls to cancel the party.  Hurried packing.  A call to our brother.  A call to arrange care for the dogs.  Steve and I drove South to New Mexico in the dark.  Friends derailed from the party gathered instead to pray for my heartbroken family, and called along the way.  The miles were like molasses, and we crawled through a high desert blizzard. 
Ryan's face was all I could see.  I saw his wry three year-old face, certain even then of his attire, down to his choice of socks.  I saw the slight tilt of his head, as his twenty five year-old penetrating gaze quietly inquired of me, curious about Steve's software, my counseling work, our family.  I felt his creative soul, saw his paintings, heard his writing.  I saw the familiar, familial pain deep in his eyes, the cost of bearing a sensitive spirit in a harsh world.  I saw his glimmering smile.  How handsome. 
We arrived.  What I saw in the eyes of those I love can't be articulated.  It is something I never want to see again; looks not intended for this world.
The week spiraled into the realm of details.  Cemetery plot.  Funeral plans.  An endless stream of kind friends, and some unhelpful Job's counselors.  Amazing how many people you want to slug, during grief.   
It is hers to tell, and human words are paltry, but in the middle of it all my sister was given a vision.  Not a wish, not a fantasy, not something she created - but a vision.  It was a mother's knowledge, yes, but much more than that.  Jesus brought to her an understanding, a sight, into what Ryan now is, what he knows, what he's doing.  I wish that every human being could watch her eyes as she tells of it, the excitement, the joy, the pride.  She saw Ryan, fully creative, his artistry and brilliance pouring from him, unabated.  He is having so much fun.  He is delighted at what he is accomplishing.  Nothing is blocking him. He's Ryan, fully, finally, Ryan.
Death does nothing but take.  It removed the warmth of Ryan's body, his strong, athletic arms, his scent.  It removed the ability to touch him, hold him, to see clearly his eyes.  It took his parent's dreams of their son's career, life with God, the beautiful children he would have brought into this world.   Death interrupts and attempts to mock, tries to proclaim itself king.  It is horrible, in all its collateral damage.   
But it does not get to have a final sting. 
Some of the most beautiful words ever penned came from Paul, whose life had been completely changed by Jesus.  He once hated Christians; killed them.  But he became the man who said, "Death is swallowed up in victory.  O Death, where is your victory?  O Death, where is your sting?"   He's not talking about some religious victory, some moral high ground.  And he's not talking about some ethereal cloud of disembodied spirits, rallying around the throne of God, like floating cherubs on clouds. No, the reality is "our bodies are buried in brokenness, but will be raised in glory.  Our bodies will be transformed."   When you hear the term 'good news,' think mostly about the force that destroys death, that will renew us, deliver us into a new heaven, a new earth , a great party, a feast – literally –  full of faces we've longed to be with, the warmth of hearth, fantastic wine, delicious food, the best dancing music, unencumbered by any hint of shame or shadow. 
All of those things that keep us muted, covered over, slightly blocked – will be gone and we can enjoy being ourselves. 
In fact, that is what Jesus is most excited about: "Look, God's home is now among his people!  He will live with them and they will be his people.  God himself will be with them.  He will wipe every tear from their eyes, and there will be no more death or sorrow or crying or pain.  All these things are gone forever.  Look, I am making everything new!" (Rev. 22
We will – finally – be his people. Meaning, we will be who we were intended to be.
And we'll see Jesus as he really is.  Finally we'll see the one we were getting to know, to varying degrees, the one we suspected was real midst the ridiculous counterfeit renderings of him.  It will be his land, after all.  He rules it, and proclaims that we get to be ourselves, finally ourselves. 
I want to ride horses with him, thanking him for keeping my heart alive through all the times I wanted to despair.  And I want to play with children.  A young woman I know wants to talk to him a long time, giving him a chance to explain some things to her.  I think of myriad girls and boys enslaved in the sex trade who will, for the first time, be able to even think about what they want.  We'll be so glad that we were restored and made new, that we won't think about worship.  We'll worship by being ourselves.
This stuff is either real, or it is not.  I am telling you, it is real.  There's a party coming, and we get to show up as ourselves.
We drove back North to Colorado, to our house, too soon it seemed.  The place settings were still on the table, the cider on the stove, food thrown haphazardly in the freezer.  There were remnants everywhere of an intended party.
And that's where we find ourselves.  Waiting for the party to be restored.  All good parties point to it, give us an idea of it.  Ryan's there.  Mom and Dick are there.  Brent, Jim, and Mark are there.  I can't wait to see how my mom is helping Jesus tell people who they really are with a glint in her eye.  I can't wait to see Dick exploring the mountains and making people laugh.  Brent is enjoying the best cigar and fishing the sweetest river. 
I can't wait to see what Ryan has been working on.  I can't wait to see the pleasure in Jesus' eyes as he invites his boy to show him, and us, his latest creation, something that, as his dad says, 'would make the flowers sing.'
What a great thing to do before sitting down for some really good food.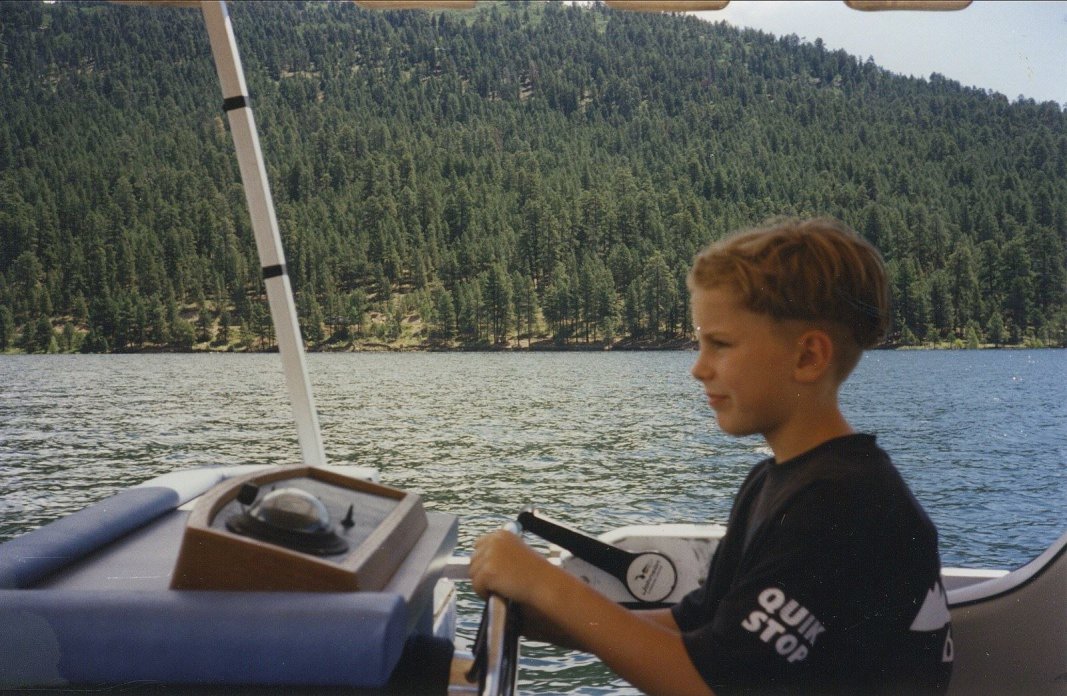 Categories: heaven, family, ryan steward, death, hope
/